Traditional Orangeries – Let Hartley Botanic Inspire you!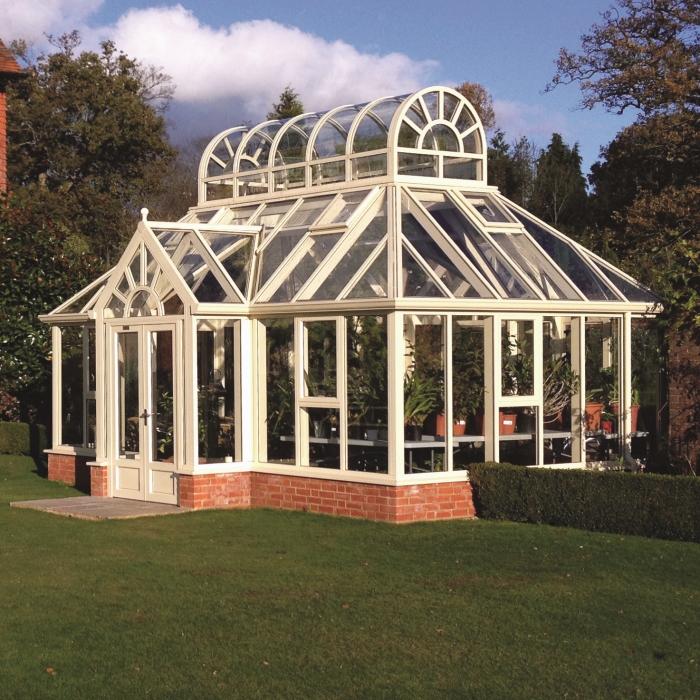 Traditional orangeries were popular with major landowners between the 17th and 19th centuries as a place to grow citrus trees, safe from the harsh weather conditions of the UK.
As well as protecting trees from the frosts of winter, this also allowed the growing season to be extended, enveloping the fruit in the warmth and sunlight passing through the orangery roof.
Over the decades, times and tastes changed, and a greater amount of citrus fruit was brought into the UK as imports, rather than being grown locally.
But while the traditional orangery found a broader role as a growing space for any tender and exotic plant, the name stuck – and survives to this day for a fairly wide category of conservatories and large greenhouses.
Now a growing 21st century fan base of budding gardeners and outdoor enthusiasts are 'switching on' to the benefits of a classic orangery for a whole range of everyday activities.
From a conservatory orangery that you can relax or take afternoon tea in, to practical bespoke glasshouses that allow you to grow the tenderest of plants, these garden structures are as popular and useful now as they have ever been.
What is an orangery?
Although many orangeries simply look like larger greenhouses, there are certain features that are found in many of them that originated due to their very specific purpose.
For example, many traditional orangeries look like lean-to glasshouses; this is not a space-saving measure, but was originally because a masonry wall can act as a useful store of heat, keeping the interior temperature steady overnight or during shorter periods of bad weather.
Modern-day lean-to greenhouses can work in much the same way, adding a walled garden in the classic tradition to even a modestly sized 21st century garden.
Larger standalone glasshouses often have several rows of brickwork to stand on, again adding this warming masonry element to the structure, without it needing to take the form of a lean-to glasshouse built against an existing wall.
A large greenhouse can also double as a conservatory orangery, giving you a warm place to retreat to on a cold or windy day, and a sunny spot for afternoon tea at the height of summer.
How do I build an orangery?
Our larger greenhouses work well for growing all manner of tender and exotic plants, and many of our bespoke models can be constructed on a masonry base, if you want the warming effects of a citrus wall in a standalone structure.
Alternatively, have one exterior wall of your house act as a citrus wall, combining it with a lean-to glasshouse to trap the heat and provide some vertical growing space.
Our Victorian glasshouses and botanic glasshouse range provide the appearance of a traditional orangery, for an elegant and timeless addition to any garden.
Meanwhile, larger greenhouses can be partitioned to provide both growing space and a separate relaxation area, which can be furnished with table and chairs for afternoon tea.
Building any of these structures depends on the type – a lean-to greenhouse must obviously be placed against a wall, while you may need to build a masonry base before the glazed elements are placed on top.
In any event, with a properly laid base and well constructed masonry elements, a good-quality glasshouse should serve your needs for several decades or longer.